SCOPE OF ACCREDITATION
1- Determination of trenbolone by ELISA
2- quantitative analysis of ractopamine using Elisa
3- Screening for Malachite Green and Crystal Violet using Elisa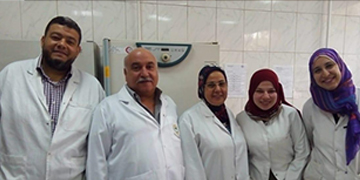 The lab is equipped with latest technologies matching with equipment used in international labs. In addition, its personnel is trained and qualified to run analyses according to latest international methods.
The lab analysis the pesticide residues in food using chromatographic equipment with different reactants.
The lab started recently using and developing methods of analyzing pesticide residues with high level of accuracy to comply with international standards using LC-MS/MS.
The analysis method includes chemical pesticides such as organochlorine, organophosphorous, compounds and others.
Analyzable Products
Food of animal origins (fish, meat, poultry and their products).
Staff