Veterinary Drug Residues Unit
The laboratory analyzes the residues of veterinary drugs in food and dairy products using highly precise methodologies in compliance with European Union requirements.
It is equipped with the latest international instruments (LC MSMS) and has qualified staff for running tests according to the latest international analysis methods.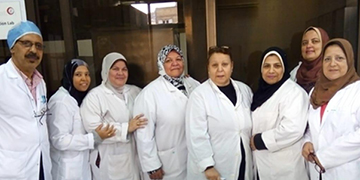 The lab. Accredited in detection, Identification and Quantitation of Antimicrobial Drug Residues in tissues of meat of animal origin and poultry using Bioassay System, a seven plate agar diffusion assay using monolayer plates, which can detect and quantitate a range of antibiotic residues found in meat and poultry products including kidney, liver, and muscle as well as milk and dairy products.
Tetracycline
Beta-Lactam Antibiotics
Penicillin G potassium salt
Streptomycin
Dihydrostreptomycin
Erythromycin
Tylosin
Neomycin
Gentamicin
Staff